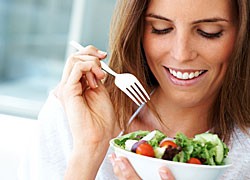 No Need to Starve
When a person needs to slim down, very often he or she may imagine having to starve for days on end to reduce weight, but this is far from the truth as a weight loss recipe, for instance, will be able to do the job much better. A well balanced diet is more important when wanting to shed weight and it is possible, with the help of a weight loss recipe, you will be able to learn how to incorporate healthy eating into your everyday life.
There are a number of well known tricks that people use to stave off the constant craving for more food and these include counting up to ten, going out for walks, or eating a piece of fruit. However, there is a better strategy, one that works much better than any of these, and that is in regards to a proper weight loss recipe. In other words, using a weight loss recipe – which consists of a healthy and low-fat meal – you will not have to starve, but instead can incorporate healthy meals into your life.
Weight loss recipes are available from all around the world and they can help to spice up any dish by preparing naturally healthy dishes. One such weight loss recipe is Whole Wheat Penne with Shrimp and Vegetables, which has the earthy quality of the fall vegetables to complement the heartiness that the whole wheat pasta gives to this dish.
In order to prepare this dish, one needs the following ingredients: one pound whole wheat penne pasta, three tablespoons of extra virgin olive oil, two minced cloves of garlic, one round Italian eggplant that is to be cut into half inch cubes, three Roma tomatoes seeded and chopped, one half pound medium shrimp cleaned, and a quarter cup of chopped basil.
Once the ingredients are ready, you then cook the pasta in a large pot of boiling salted water as per the package instructions, or until al dente. While this is happening, the olive oil can be heated in a large skillet and you can also sauté the garlic for a minute before adding the eggplant, and then sauté further for about five minutes or until the color turns golden brown.
The to this, you add chopped tomatoes and sauté for another two minutes, then add the shrimp and cook for an additional two to three minutes or until the shrimp's color turns pink.
Next, drain all of the pasta, reserving half a cup cooking liquid and then add both to the skillet and also toss all of the ingredients together and top it all off with some chopped basil. Now, the meal is ready to be served and each serving contains just 570 calories and this wonderful weight loss recipe will have thrown up another delicious and healthy food creation to be savored and relished, without fear of putting on weight.