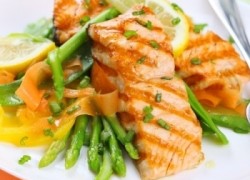 Although it's a known fat that different diets impact each of us differently, I like to ensure that I'm at least attempting to eat foods that assist with maintaining my ideal weight.  Eating foods that burn fat is a great start. I've identified below fat burning foods I discovered while searching online:
Almonds and other nuts (with skins intact)
Build muscle, reduce cravings

Dairy products (fat-free or low-fat milk, yogurt, cheese)
Build strong bones, fire up weight loss

Eggs
Build muscle, burn fat

Turkey and other lean meats
Build muscle, strengthen immune system

Berries
Improve satiety, prevent cravings

Enova oil (soy and canola oil)
Promotes fullness, not easily stored as fat

Peanut butter
Boosts testosterone (a good thing even in women), builds muscle, burns fat
While I included seven fat burning foods above, this article provides a total of 15 fat burning foods.
After you read the article, you'll realize how important it is to change your eating habits to achieve and maintain your weight loss goals. Feel free to leave a comment about your favorite fat burning foods that have helped you lose weight.