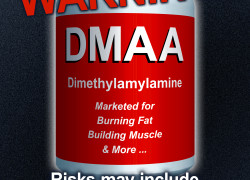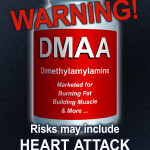 If you use weight loss supplements make sure the product does not contain DMAA, an organic compound that the Food and Drug Administration earlier this month warned consumers of having potentially serious health risks. Read more below:
The Food and Drug Administration (FDA) is using all available tools at its disposal to ensure that dietary supplements containing a stimulant called dimethylamylamine (DMAA) are no longer distributed and available for sale to consumers in the marketplace.

The ingredient, DMAA, is most commonly used in supplements promising weight loss, muscle building and performance enhancement; it can elevate blood pressure and could lead to cardiovascular problems, including heart attack, shortness of breath and tightening of the chest. Given the known biological activity of DMAA, the ingredient may be particularly dangerous when used with caffeine.

As of April 11, 2013, FDA had received 86 reports of illnesses and death associated with supplements containing DMAA. The majority are voluntary reports from consumers and healthcare practitioners. The illnesses reported include heart problems and nervous system or psychiatric disorders. Note, however, that a report is not proof that the product actually caused the problem.
Click here to read the full article.